Interview with Jean-Baptiste Lécaillon
Jean-Baptiste Lécaillon, cellar master and technical director at Roederer, explains the secrets behind Champagne Roederer and Cristal, its flagship product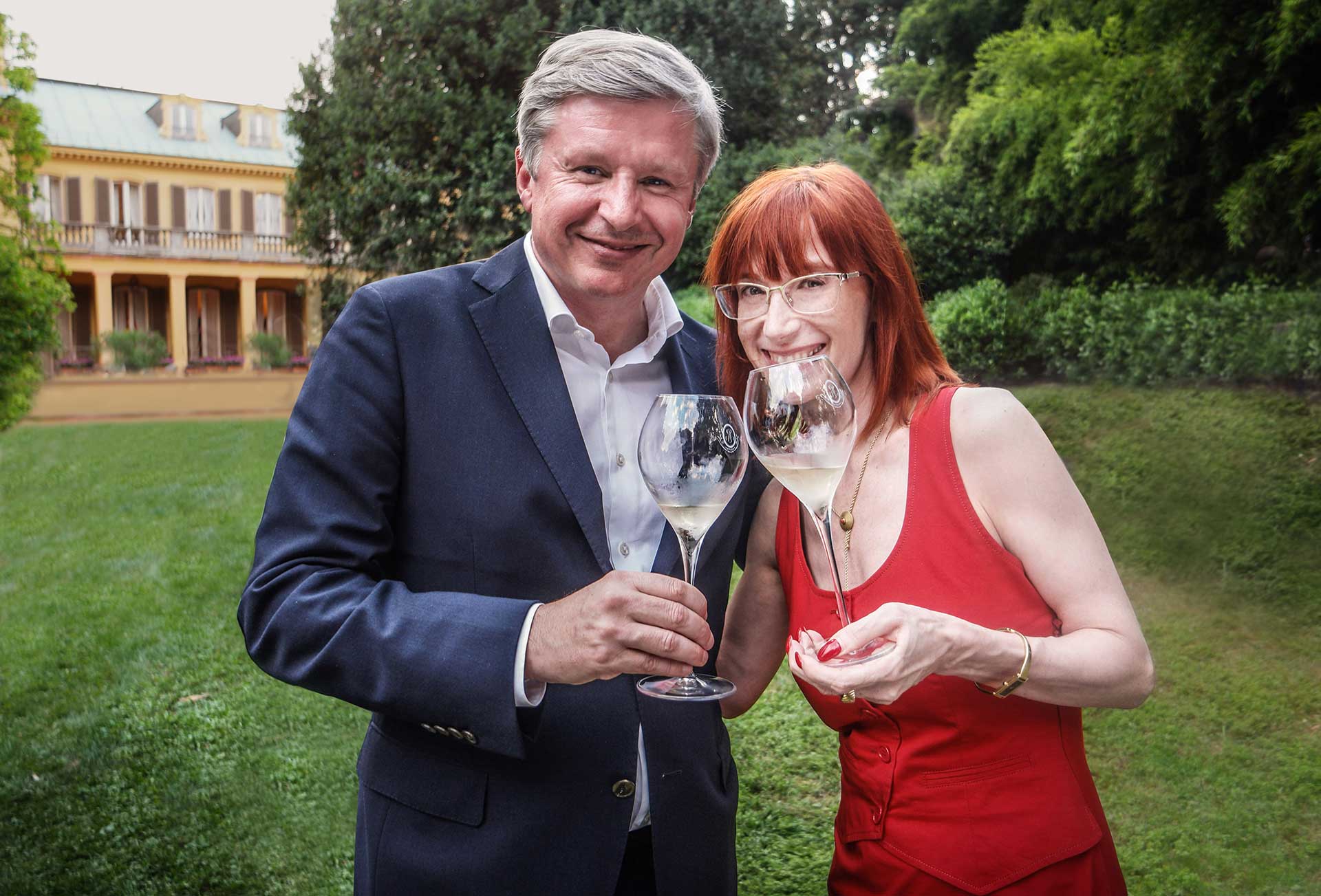 Lécaillon: "Champagne Roederer is a joint effort"
Twenty years as cellar master and director at the company founded in 1776
Champagne is to wine as haute couture is to fashion.
Alfred Gratien

Jean-Baptiste Lécaillon photo Luc Manago

I have met Jean-Baptiste Lécaillon several times and each time I have been struck by his noble manner and kindness. An absolute gentleman, tout à fait. He was born in Reims in 1966. As soon as he finished his studies at the Montpellier University of Oenology, Jean-Claude Rouzaud, head of the Roederer family business, hired him. After sending him to California, Tasmania and Bordeaux for a few years, he brought Jean-Baptiste Lécaillon back to Reims in 1999 as cellar and vineyard manager. Maison Roederer is one of the five large champagne companies that still belong to the descendants of the founder. The company was set up in Reims in 1776 and is currently managed by Frédéric Rouzaud, who represents the seventh generation.


Frédéric Rouzaud photo Leif Carlsson

The company's strength lies first and foremost in its wine-producing heritage (which started back in 1850): currently there are two hundred and forty hectares of vineyards comprising four hundred and ten plots in the best areas of the Champagne region: the Grands and Premiers Crus in the Montagne de Reims, the Côte des Blancs and the Vallée de la Marne. An essential subdivision, because each of these terrains produces wines with different characteristics in terms of body, structure, elegance and finesse. Since 1845, every Louis Roederer vintage has come exclusively from company-owned vineyards, a unique occurrence in the Champagne wine region.


Photo Eric Zeziola

Lécaillon is a wine-making wizard. He isn't exactly a poet but he makes poetry with his wine. He is the beating heart of Roederer bubbly. Humble, profound, he waves compliments aside. "What makes me happy about my work is my team. The vinedressers, the wine merchants and all those talented people who contribute, day after day, with me to bring Champagne Roederer to life. Because our Champagne is a joint effort!" However, Lécaillon is not a man who is easily satisfied: "I want to do even better, I want to push the limits even further and higher."


Photo Eric Zeziola

I am curious about his stay in Tasmania since I personally hold this region and its sparkling wines in high regard. "My time in Tasmania was a wonderful experience: I had to create the first Tasmanian sparkling wine. I needed to understand the peculiarities of the place in order to make an original wine and not just a Champagne lookalike. I had already taken part in this type of project in California so I had some experience. I was young and alone on the other side of the planet and expected to conclude the project. I also had to be able to make all the decisions. But, besides the Jansz project, I was also lucky enough to meet the Tasmanian, Bill Mollison, the father of permaculture. His ideas revolutionized my vision of production and viticulture. It was necessary to produce with Nature, not against it. It was an encounter that left a mark on my future forever."


Photo Eric Zeziola

Lécaillon came back from Tasmania at the end of 1993 and spent six years with his predecessor, Michel Pansu, before taking over the management in 1999. Fortunately his tasting team also included Jean-Louis Riou (Michel Pansu's predecessor). Being with these two cellar masters, Lécaillon learnt everything about the Company's oenological history. He tasted the "liquid archives" while Riou and Pansu commented on all the secrets of these old vintages. In this way Lécaillon went back to the roots of Louis Roederer's qualitative vision. "The basic idea is transmission. And for me it was complete because these two mentors came from two different generations: one had entered into the Company in 1936 at the age of sixteen and had learned everything through on-site experience, the other was one of the first French oenology graduates. These two masters allowed me to deepen my knowledge of the two faces of our profession: immense practical experience on one side and a technical-scientific approach on the other. Michel Salgues, our Californian company's wine maker and a great scientist with various PhDs, also taught me a lot."


Photo Eric Zeziola

Lécaillon didn't make any great changes when he took over the management. "I simply took a deeper look into some techniques that are sometimes left aside or forgotten. Wine is like that, it continually adapts to its era and it is easy to forget where we come from. In general, I have continued the work of my predecessors, aiming to rediscover an artisan culture in all our activities, to get back into contact with the product by working on the details, going beyond the recipes, continuing to experiment and search and then develop flavours, the real and unique taste of the territory: all through viticulture."


Photo Eric Zeziola

They started to experiment with biodynamic production at Roederer in 2000. To date, they have exactly 122 hectares of certified organic cultivation (out of 242 hectares, therefore half) of which 10 hectares are certified biodynamic. They do, however, farm biodynamically on almost all the 122 hectares. "My idea was to aim at permaculture but it is very difficult in the Champagne region for several reasons. Firstly because we have plots just about everywhere. Even if they are large, we cannot get an eco-system in the permacultural sense to function. We have therefore focused on organic and biodynamic. Unfortunately, our neighbours' systems are dominated by chemical practices since they have not changed to organic. We therefore have to take advantage of the power of biodynamic to get our plots to react. I hope one day that we will be able to work in permaculture with our neighbouring companies."


Photo Eric Zeziola

In 2006, they decided to start a large-scale conversion: Brut Nature in 2006, Cristal Rosé in 2007, Cristal in 2012 and Blanc de Blancs in 2017. Nowadays, all these lots are 100% biodynamic. However, if we look at the labels, there is no certification. "We don't want to be categorized into any particular family (organic, biodynamic or anything else). Our only motive is the respect (no chemical products are used) and flavour of the grape. The aim is not the be organic or biodynamic but rather to make the best wine possible with maximum cleanliness. And then, as Louis Roederer, we want to be free! I firmly believe that, in order to keep one's own creative freedom in every processing phase, not belonging to this or that movement is imperative, because the best champagne still has to be invented and it is not by following recipes or specifications that it will be invented! That's why organic or biodynamic will never appear on our labels."


Photo Louis David


I have heard a number of producers say that biodynamic production is more suitable in hotter years while organic is better in colder ones. I ask Lécaillon for his opinion. "It is a trend that we have noticed in the organic and biodynamic comparison tests we have been doing for over eighteen years. In some rather hot years, biodynamic production gives the wine greater freshness and tension. This is, in fact, what induces us not to do everything in the same way. Practices must be adapted to the year, the plot, the vineyard… in the end it's a question of perfect tailoring. The climate has always changed and it will change again. It is the very principle of a vinedresser's work: adapting his tasks to the unknown variables of the climate to draw out the essence. At the moment we are in a climate that is getting hotter, something that is rather favourable. The grapes ripen better and more evenly so we can push the flavours of the territory even further."
Photo Emmanuel Allaire


Roederer has been selecting its own native LR1, LR2 and LR3 yeasts for several years, operating in biodynamic plots and then testing the DNA. "But we are dropping them because it's the same as making clonal selection identical to commercial yeasts. In my opinion, it is more interesting to work from each year's spontaneous fermentations. If they are prepared correctly, the results are optimal."
The company also has its own nursery where they are working on mass selections and their own rootstocks. "What is most interesting is research into biodiversity. We have to be careful not to make the same mistake again as we did with clonal selection, that is, identifying individual specimens and end up by depleting the biodiversity and increasing the risk of disease. What we must do is favour the differences and then express them. They may not correspond to what we are looking for today, but they always produce something of the place."


Photo Eric Zeziola
For more than twenty years, twenty per cent of the must has been fermented in foudre barrels "simply to return to practices carried out prior to stainless steel. This transparent wood that donates a silky dimension to the structure of the wine still fascinates me."
Roederer is the company with more Burgundy style than all the others. For many reasons: viticulture by individual lots, exposure and micro-climate, research into ripeness and wine production, lot-by-lot and grape by grape. Only assembly is truly "champenois", typical of Louis Roederer. "The art of assembly is constructing an ideal wine. Thanks to its aroma, its weave, its structure and salty freshness, it achieves something that does not exist in the lots. Man donates a touch of creativity, sensitivity and sophistication that verges on perfection of the flavour".


Photo Louis David
Roederer Champagnes are different to all the others, partly because of the style "delicacy, delicacy and delicacy… in a velvet substance", and partly due to its distinct territorial flavour, that almost transparent purity which emerges with time. That union of silky substance and light freshness…. Roederer can be recognized quite easily by its purity and elegance. "I think that our Champagnes express the passion of a territory, the beauty of a place and the craftsmanship required in viticulture and in the cellar to capture the locations and the vintages. A philosophy of excellence and communication from one generation to another, without ever forgetting pleasure. Here in the company, we take immense joy from learning, understanding, elaborating and sharing our passion."
Tasting is also fundamental for Lécaillon. "Tasting means taking the time for one's Champagne. Taking the time to discover, understand, travel into space (the wines) as well as time (vintages). It is a chance to ignite curiosity, emotion and to stimulate thoughts on what happened in the world that year."
Photo Cyrille Robin
In 1876, Cristal was the first prestige vintage from the Champagne region and, even now, it is the result of assembling 40 vineyard lots from the Grands Crus in the Montagne de Reims, Vallée de la Marne and Côte des Blancs. It was originally created to satisfy the demanding tastes of Tsar Alexander II. The Russian emperor was particularly partial to Roederer champagnes and wanted the best vintages put aside for him.
Photo Eric Zeziola
The name comes from the flat-bottomed crystal bottle that was specifically made for this wine. It is only produced in the best years, exclusively when the pinot nero (about 60%) and the chardonnay (about 40%) grapes ripen to perfection for this impeccable and iconic product.
Lécaillon decided to put the 2009 and then the 2008 vintages on sale after a gap of 10 years (and it was the first time that Roederer had waited a whole decade). The 2008 version clearly needed more time than usual to blossom. The material power of the sunny 2009 vintage, on the other hand, was ready in February 2017 when it came onto the market. According to Lécaillon, the 2008 "is the Cristal of Cristals, because it perfectly represents the delicacy and density of Cristal. It is almost perfect. I believe that it is my most successful vintage, potentially better than the 2002, perhaps even better than the legendary 1988." No Cristal was produced in 2010 and 2011. And 2012 saw the start of a new chapter: Cristal was produced entirely from biodynamic grapes.
Photo Louis David
And if you ask him what the secret of Cristal is, the oenologist will answer: "Besides the story of the Tsar and its being Champagne's first prestigious vintage, I think Cristal is simply a true wine: it respects its white soils, the grands crus halfway down the coast and it has enormous, delicate and salty purity. It is never masked by superficial subterfuge. It is naturally great!"
Photo Louis David
Louis Roederer
21, boulevard Lundy, CS 40014 51722 Reims Cedex France
Tél. +33 (0)3 26 40 42 11 
http://www.louis-roederer.com