02/04/2019
EisacktalWein, an example of farsightedness for territorial support
Nineteen wine producers in the Isarco Valley have joined the EisacktalWein association, together with hospitality, catering and promotional facilities, so that enthusiasts can savour this unique territory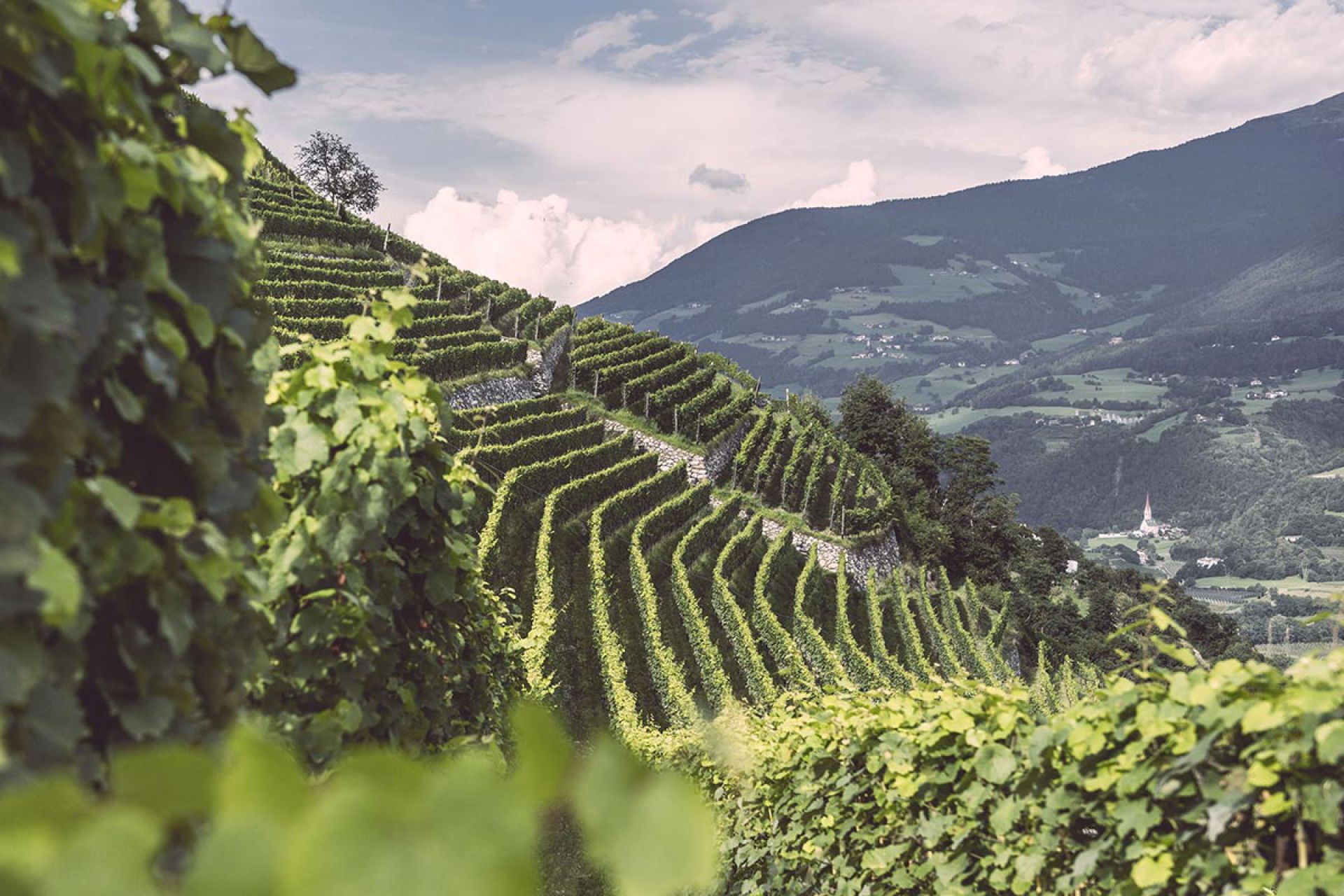 Isarco Valley: the revival of Alpine wines

A variety of landscapes, morphologies, micro-climates, altitudes: a jigsaw puzzle just waiting to be completed.
"We need to unite, not merely to be united, but to do something together".
Johann Wolfgang Goethe
A valley pass, a narrow canyon with steep sides that widens slightly in the Bressanone basin to then return to rugged Alpine scenery until it reaches Austria. A border region between north and south, between Middle-European and Mediterranean tradition. Cut through for centuries by the Isarco river, which springs at an altitude of almost two thousand metres near the Brenner Pass and unwinds for ninety-six kilometres to flow into the Adige just south of Bolzano.
The original Isarco Valley/Eisacktal district was formed in 1968 as a voluntary union of nineteen municipalities in the mid-high part of the valley. It is pure coincidence that there are also nineteen producers who, through friendship, respect and mutual vision, have joined the EisacktalWein association together with hospitality, catering and promotional facilities. The aim is to continue to enhance the genius loci and put the mountain into a glass.




The wine-production area is the most northern in Italy with 400 hectares of vineyards forged from the purity of the glaciers, the heat of their volcanic origin (porphyries in the southern part) and rocks created by magma (phyllites and diorites in the north).
The natural landscape is spectacular, vineyards clinging to the mountains, heroic viticulture (with slopes that reach sixty per cent, and even one hundred per cent in some cases), in extremely small plots.
The lonely and wild beauty, unspoiled over time, leaves you speechless.




And what variety of morphology, landscape and brightness. Of altitude, ranging from 300 to 970 metres. Of micro-climates and night-day temperature differences.
The recurring theme is the hand of man, the sweat and hard work put into terracing the vineyards with low, natural stone walls, gestures handed down from father to son.




Here, complexity and uniqueness are not merely words found in brochures.
An eclectic valley, versatile, able to plant its own roots and take flight. Again. Yes, because in the past, red grapes, that were not suited to the territory, were cultivated here. And yet, the vine-growing tradition dates back to the fifth century and was continued by monks, evident proof of which can be found at Novacella Abbey, where wine has been produced since 1142.
At the end of the 19th century (at long last), the territory's vocation for white grapes was finally understood, but between the two wars and the progressive abandonment of the farmsteads, grapes were only cultivated for family needs. The pride of keeping up the tradition, however, was still very much alive.




In the Sixties, the cooperative winery in Chiusa re-launched the wine-making business alongside the bright beacon that had always guided from on high, the historical abbey and reference point.
In 1975, the Alto Adige Doc denomination was created with the Isarco Valley sub-zone.
The flame of freedom smouldered beneath so that, bit by bit, liberation began.
The Huber family (Pacherhof) started the ball rolling, then, step by step, more and more producers began to bottle their own wines. The Nineties marked the real viticulturist revival with small, yet not tiny, wineries (the average number of hectares per company is one and a half). They each embarked on the road to independence, bearing gifts of authenticity, adherence to the territory and to their own existence. Stories of men and vineyards, each one different to the other.




The wines, created by younger generations enjoy contemporaneity and go straight to the mark.
The vines? Mainly kerner (20.5%), sylvaner (17.25%), müller thurgau (14.75%), gewürztraminer (12%), riesling (7%), grüner veltliner (6.25%), pinot grigio (5.25%), pinot bianco (2.63%). There are, however, also some red grape varieties, especially in the south of the area behind Bolzano, with zweigelt (4.25%), portugieser (2.5%), schiava (2%) and pinot nero (2%). Do not think, though, that the whites, for example, the classic gewürztraminer, express themselves here as in all other places. The peculiarity of the Isarco Valley mosaic gives the wines, which do not expand, greater verticality. In fact, they surge towards the peaks.
Of the two and a half million bottles produced (again in reference to EisacktalWein associates, which count 17 small producers and two larger organizations, namely the Cantina Sociale Valle Isarco and Novacella Abbey), the majority is drunk in Italy (75%).
And, let me just say, thank goodness for that: letting wines of such particular identity escape, and at their truly honest price, would be foolish.
With Laura Sbalchiero, a Virgil in a skirt and a highly qualified and scrupulous communication expert, able to put absolute dedication and passion into every project she takes on, let's go and meet some of the EisacktalWein associates (to whom we extend our thanks).




Cantina Valle Isarco
Armin Gratl, manager of Eisacktaler Kellerei and President of EisacktalWein, placid and affable but with a decisive manner, hides the enthusiasm of youth behind his smile. For five years, he has been managing the youngest cooperative winery in Alto Adige, founded in 1961.
There are 135 members on 150 hectares, located between Bolzano and Varna. Ninety-seven per cent produce white wines in tune with the area's vocation. And while the winery, renovated in 2006, is at Chiusa at an altitude of about five hundred metres, the members' vineyards range from three hundred to one thousand metres high, with a huge variety of geological and soil conditions. Production reaches 950,000 bottles. Hannes Munter, after a few years working alongside the historical oenologist, Thomas Dorfmann, has been head oenologist since May 2018.



Armin Gratl

In the meantime, Gratl had already put into practice increasingly more direct decisions regarding vine selection, aiming at enhancing the vineyard's expressiveness more greatly. It should be said that the Aristos selection, a single-grape line produced for the first time in 1990, which uses several grapes selected at low yields, together with the most important line, Sabiona, produced only in the best years (from the plot at the foot of the homonymous abbey-convent), are making their way stylistically. Of course, 2017 was not a lucky year: between drought, frost and hail, one third of the production perished. The Kerner 2016 and Sylvaner 2016 from the Sabiona line, made from 35-year-old vines, are those that stand out from all the others due to their elegance, balance and depth.

Cantina Valle Isarco
Loc. Coste 50
39043 Chiusa (BZ)
tel. 04728477553
www.cantinavalleisarco.it
info@cantinavalleisarco.it


Garlider
Velturno extends over a sunny plateau in the centre of the Isarco Valley.
Christian Kerschbaumer's vineyards, just over four hectares, surround the Garlider farmstead which stands at an altitude of 650 metres. They climb up from 550 to 800 metres on soils that are prevalently shale-quartziferous. The oldest, at just twenty-five years, are sylvaner and grüner veltliner. The air here is peaceful and calm, with goats, an almost frozen mountain and the vineyards in the background: a relaxing bucolic picture. Christian's winning smile encourages the desire to hear his story. After a rumbling interval with legendary Harley-Davidsons, without ever neglecting the activities of the farmstead where he grew up, he took his decision in 2003 and began production, breaking away from his role as a provider for Cantina Sociale Valle Isarco. In reality, wine was already being produced for family use but the step had to be taken towards total autonomy. Among other things, he was the first to plant pinot nero in the Isarco valley, later to be joined by others (pinot nero makes the heart beat like true love and is always yearned for).



Christian Kerschbaumer


Christian knows what he wants, you can see it from the details: organically certified since 2005, in the last four years he has also been experimenting biodynamic techniques; lengthy refining on fine dregs and in wood for late bottling (July-August); local yeasts; spontaneous fermentation; malolactic fermentation; steel as well as oak barrels (but other containers are also being tested); glass corks; simple and essential logo. The wines tasted were almost all from the unfortunate 2017 (here too, frost and hail with losses of between forty and seventy per cent). A different year for the truly enjoyable pinot nero 2016, pure fruit and synaesthetic drink. And yet, the wines manage to reflect that interior light that characterizes them, always slow to express themselves, but able to capture you over time. Delicate, reserved. They are to be waited for, then they penetrate within. Our favourite glass of all was the Sylvaner 2017, with that slightly smoky nose, that touch of aromatic herbs and that vital thrust, that core of sylvan life that elegantly but tenaciously engulfs you.

Garlider
Untrum 20
39040 Velturno (BZ)
tel. 0472 847296
www.garlider.it
info@garlider.it

Gumphof
Novale di Presule, in the municipality of Fiè allo Sciliar, at the entrance to the Isarco Valley, enjoys a strange micro-climate. Sun, light and a tepid daily breeze from the lake, Ora, contrasting with the chilly evening wind from the Dolomites. It cannot be ascribed to the wine area of Bolzano, nor to the classic Isarco Valley, which enjoys higher temperatures on average and a different varietal image. Gumphof is a bit of a Middle Earth: and Markus Prackwieser fits the part of Gandalf well, both for his indisputable talent as a vine-dresser and for that curious and wise spirit that animates his way of doing everything for the sake of beauty and good. He is certainly not lacking in energy and, even if he looks a little like his sprightly ninety-year-old father, who busies himself around the old farmstead here and there, we can be happy in the idea of enjoying his Bacchic creatures for a long time to come. Gump, as he is known by his friends, Christian Plattner and Günter Kerschbaumer, is the third of this Trio of wine artisans, who, with rare sensitivity, share trips, tastings and exchanges of opinion. He began bottling his dreams in 1996.

Markus Prackwieser

He studies the porphyry quartziferous, morainic and clayey terrains that scramble up from 400 to 550 metres altitude, with slopes of 50-70% and makes a suitable varietal made-to-measure product: pinot bianco, sauvignon blanc (which were already there but needed attention), gewürztraminer, schiava and pinot nero.
Five hectares with some vines that are forty-years-old. They are also affected by a lingering history: the Prackweisers have owned Gumphof since 1850. The farm complex has been mentioned since 1546.


The medieval route that connected the north and south of the Alps passed through here, linked to Castel Presule-Prösels. Therefore, the Mediaevum, Praesulis and Rénaissance labels reconnect the past. The wines, however, are the children of a bright and crystal-clear present. Precise, territorial, respectful of the typicality of this unique place. Stylistically they are clear, deep, with a surprising persistence of purity. It is astounding how they call for more tasting due to a sapid salinity, vital dynamism, solid structure that is never too imposing and just slightly one step behind the freshness of the pulpy fruit. The oak is managed in an extremely balanced manner to help the wines last, as we were able to understand from a white pinot Riserva Renaissance 2012 that unveils the elegance of a champion.
It is difficult to choose a favourite. The white pinot Praesilus 2017 would be a wine to take home for how it manages to entwine structure and juicy salinity with a lively and profound finale; but also the sauvignon Praesulis 2017, with those hints of elderberry, exotic fruit and its tapered, stinging and intimately elegant stride… to then leave us stranded with that vibrant drink, to look beyond the horizon.

Gumphof
Novale di Presule 8
39050 Fié allo Sciliar (BZ)
tel. 0471601190
info@gumphof.it
www.gumphof.it

Taschlerhof
Peter Wachtler is also part of that group of vine-dressers born around the Seventies, who had the same education (that is, the agriculture school in Laimburg) and who grew up together with the mutual ideal of disassociating their farmsteads from the cooperatives. They had an internal incentive and the pride to create wines that would speak the language of their land. In general, although all of them produce few bottles (more or less between 25,000 and 80,000, with the exception of Pacherhof who manages to make 120,000), they are certainly authorial.
We are in Mahr, an enclave (already famous two hundred years ago for its wine vocation, which can also be seen by the vineyards immortalized in the yellowed photographs hanging in the winery) that Wachler shares with his renowned neighbour, Peter Pliger (Kuen Hof), one of the first to go solo and follow his own creation.

Peter Wachtler


The vineyards (three self-owned and two rented) are all around the modern wood, glass and slate winery with its essential design. They rise from 500 to 750 metres, surrounded by woods and facing south-east, all terraced and tidied up in 2004. The vines (some are thirty-five years old) cling to a poor terrain, with shale, silicon and quartz, and even slope quite dizzily in the Lahner Vineyard (which means "slide" in the local dialect).
Peter, who has been filling the bottles since 2000, interprets the warm slopes in Mahr with a slightly higher yield and different harvesting moments.
The wine-producer pours the wines and tells his story always with a friendly smile and apparently good-natured ease that does not, however, hide the sharp determination of a careful and evaluative character. I take away with me the Sylvaner Lahner 2017, not one of the best years for this "cru". Slow in expressing itself, it reaches an impressive complexity and broadness together with a salty note that has a bearing on the sip.

Taschlerhof
Mahr 107
39042 Bressanone (BZ)
tel. 0472851091
info@taschlerhof.com
www.taschlerhof.com

Köfererhof
History lingers in this farmstead dated 976, already active 166 years before Novacella Abbey that can be clearly seen from here. How many families have worked around here over the years!
Sitting at the table with Günther Kerschbaumer's wines, for the first time, I feel the original strength of a composite family nucleus. In fact, various relatives come in and out to say hello, but it is with Günther's words that, loving brush stroke after brush stroke, they come out, one by one, each with their own role: the person who strives to get the best from the vineyard, the one who works in the cellar, the person in the restaurant (typical Tyrolese home-cooking). One of his two youngest sons already wants to lend his father a hand among the vines.
In the winery and in the vineyard, the decisions, despite all the help, are taken by Günther. For example, in '95, when, after four years of trying, he began his solitary adventure. He was one of the first to start and mark the way for the others. He concludes with the world as it was before, made of grapes sold to the cooperative and a barn (they even had the most productive cow).

Günther Kerschbaumer


A little of that world can still be found in the labels, which portray his mother and father picking grapes forty-five years ago (no pergolas, and, in fact, Günther was one of the first to terrace his vineyards using guyot). New vines were re-planted, implementing vineyards and winery.
Now there are five and a half hectares of self-owned vineyards and four and a half rented (but personally cultivated) at about 650-700 metres, on terrains of underlying slate and granite with a surface blend of gravel and morainic sand.
I watch Günther open the bottles. The hands of someone who knows his own winegrowing craft. Only part of what he knows, of what he experiments, of what he tastes emerges on the outside for the world (also with the wine-making Trio, with Markus Prackwieser and Christian Plattner). His look is karstic, you can see that he is an introvert, someone who looks at the essence of things. Even in his courtesy, he finds it hard to be captivating and warm. His ways are of a person of character, sometimes grouchy, and it is hard to know what he is thinking. We also find him in his wines, never round, with an admirable righteousness, beaded with sapid veins and fresh-acid impulses that make you sit up straight.
I would like to thank him for the generous and heavenly overview of his wines. He has not missed a shot and I will carry within me that bouquet of flowers, from the sylvaner, to the pinot grigio, the kerner, the grüner veltliner, the Riesling and sylvaner R (all 2017) as a tribute to his land.
All of his wines, always in respect of the varietal, are able to get under your skin and touch your most intimate cords. The profound emotion that engulfs you from top to toe, that leaves you speechless because your body is vibrating like a tuning fork, comes with the riesling 2010. A masterpiece. Natural complexity, a flavour of harmonized fruit in pure rigour and energy that drags on to the very end. Bright, elegant plot, it is the wine of angels

Köfererhof
Via Val Pusteria, 5,
39040 Novacella (BZ)
tel. 0472 836649
www.koefererhof.it
info@koefererhof.it

Strasserhof
How good you feel in Hannes Baumgartner's stube! It is certainly the warmth of the wooden walls and the loving care in every detail that make you feel "at home." If this is then joined by the natural kindness and savoir faire of the owner, with his clean, youthful face, and the strange lightness that accompanies the gait of this decidedly tall man, then…. the only thing missing is the wines (which are on their way) and you could stay for hours. Looking, between the orchids, out of the window, you can see the Plose mountain and the vineyards. In any case, it is freezing cold outside and we would catch our death going round the vineyards.
We are seven hundred metres high in one of the oldest farmsteads, built over a thousand years ago, even before Novacella Abbey, which is just a few kilometres lower down from here.
If it were not for the recent Santerhof in Val Pusteria, Strasserhof farmstead would easily be the most northern wine-producing company in Italy.

Hannes Baumgartner


The vineyards, five and a half self-owned and one and a half rented, range from an altitude of 650 to 800 metres on sandy and gravelly terrains. And although Isacro Valley vineyards are generally young, here we have some of the oldest specimens (the sylvaner vines are fifty years old). White grapes predominate here too, but one red (zweigelt) is used to accompany a typical and ancient Isarco Valley usage, the autumn Törggelen. The Buschenschank in which we are hosted is open to the public on convivial occasions, with local dishes, to continue the tradition once reserved for tasting new, young wines (Törggelen comes from press). Hannes, President of the Vignaioli dell'Alto Adige association since 2017, abandoned the cooperative road to create his own labels in 2003.
The choice focuses on Sylvaner Anjo 2016 (the name is short for Anna and Joseph, Hannes' parents), ten months refining in oak bottles. It hooks you with that touch of flint, a harbinger of a flavour that returns in the taste: structured yet balanced, elegant, distinctive, with a lively and bracing aftermath.

Strasserhof
Unterrain 8
39040 Novacella Varna (BZ)
tel. 0472830804
info@strasserhof.info
www.strasserhof.info

Novacella Abbey
And here we are in the sacred temple of Isarco viticulture: Novacella Abbey, where, under the Augustine order, wine has been produced since 1142, that's almost nine centuries! And, in fact, it is counted among the oldest wine-producing organizations in the world.
The abbey undoubtedly commands deep fascination, in its muffled silence, among the cloisters, the library, the church. A divine place of wine, it has been managed for decades by Urban Von Klebelsberg, who also opened the new underground cellar, in harmony with the landscape, in 2017, to the great satisfaction of oenologist, Celestino Lucin (who has been collaborating there for over twenty years now).

Celestino Lucin

Since 2018, the 85 hectares of vines (25 self-owned and the rest entrusted to a farmers' cooperative, which is the sole supplier) have been managed by Fabian Schenk.
A solid reference point over the centuries for many farmers who provide the grapes, Novacella has played a fundamental role in the viticulture of the Isarco Valley. The vineyards grow in poor morainic soils on steep slopes ranging from 600 to 900 metres in altitude, all terraced with dry stone walls.
The oldest vines are the sylvaner which are almost fifty.
Total production is around 800,000 bottles, subdivided between the classic and the superior Praepositus lines.
Welcoming us is Werner Waldboth, the marketing manager for all the monastery's products (wine, grappa, juices, teas and cosmetics) as well as for the building. We are to have a vertical tasting of twelve years of Kerner over a time span from 1993 (the year it was awarded its Doc) to 2017. Celestino Lucin briefly outlines the importance that the Kerner grape now has for the Abbey: while in 1997, ten thousand bottles were produced from five hectares, nowadays, in just over twenty years, more than two hundred thousand bottles are produced from vines covering a surface area of about twenty-five hectares.




The kerner (a cross between schiava grossa and riesling) is the Isarco people's daily tipple, the wine that well accompanies their local everyday food. Outside its native country, Germany, the kerner (whose name comes from the poet and doctor, Justinus Kerner) is cultivated mainly in the Isarco Valley, covering just over 80 hectares out of a total of one hundred in the South Tyrol (almost eighty per cent of South Tyrol production).
And although the kerner does not normally produce a lot of grapes, great care must be taken during harvesting so that the wines, while still able to express considerable aromatic intensity, are not too strong.




A vertical tasting that was an interesting experience and which, ignoring the two obvious corked wines and one bottle that was not at its best, placed the 2010 version on the podium due to its captivating spicing and its measure that played on elegance, dynamic rhythm and length.

Abbazia di Novacella
Via Abbazia 1
39040 Varna Novacella (BZ)
tel. 0472836189
www.kloster-neustift.it
info@abbazianovacella.it

Röckhof
Achieving authenticity seldom happens. Everything has to fit perfectly: you only need a comma out of place and the damage is done. I look at Konrad Augschöll, with that square jaw and strong, slender body. A lean and muscular physique, hardened by life and effort.
I don't think he has had an easy life, you can sense it. I register that incredible energy in his eyes before diving into the past. Underground, in the dark, down a corridor that leads to the sixteenth century farmstead where the Augschöll family lived for four hundred years until 1988, when Konrad and his family moved into the house next door. The sight of this stube is heart rending, cold and hard like no other. The fully functional smokehouse is essential. Whole specks and salamis hang in the old cellar, there are crates of potatoes on the floor, an old press and a pack basket on the wall. It is like being in a film. In 1988, at twenty-seven years of age, Konrad took the reins of the farmstead and focused on grape cultivation, while still producing his own milk, butter and cheese as well as sausages, speck and black sausage. He began making his own wine in 1998.
In 2012 he had the winery built underground, adapting it to the natural lay of the land. To date, there are two and a half hectares of self-owned vineyards and another two and a half rented on diorite, granite and sand soils. The vines grow at an altitude of between 550 and 900 metres.



Famiglia Augschöll
Outside, the view is incredible. You can see the Sabiona Abbey monastery and the Plose mountain. We are 650 metres high among vines and chestnut trees. And Konrad is there, positioning an insect house in a corner (whoever cares about giving a home to insects?). Konrad, who is saving the ancient Furner Hottler vine from extinction though meticulous retrieval work and research that should be highlighted with a red marker (in fact, the wine that is produced from it is red, suitable for Törggelen). Konrad, who has been using an 1895 yeast for five years. Konrad, who makes both white and red cuvée, Caruess, when almost all the others use one grape.
But it is when he starts to pour me the wines and I begin tasting them that I understand the real strength of this man. Volcanic and silent. The first wines are from 2017. Created by son Hannes, to whom Konrad passed the baton that year. His look is open and proud: he will support his son, he is ready to help him if need be, but he stands back. Hannes' ideas are different to his father's, he wants to go his own way. And he will have the space he needs. We will give him time and trust, the year was not an easy one.
We look towards the future and we take the Grüner Veltliner Gail Fuass 2017, the result of experimentation: an early harvest, using thirty per cent of the stalks with half local yeasts and half not. Subtle, it gradually takes on stature and volume in the mouth, closing with a grip of bold freshness.

Röckhof
Loc. San Valentino 22
39040 Villandro (BZ)
tel. 0472847130
info@roeck.bz
www.roeck.bz

Pacherhof
The farmstead origins date back to before Novacella Abbey (1142) and the surname survived until 1849 when one of the daughters married winegrower Joseph Huber. He was an important figure for the Isarco Valley: back in those days, after numerous journeys with Johann Huber, he understood that sylvaner, pinot grigio and gewürztraminer were the varieties most suited to Isarco soils. He was the first to plant the kerner in Isarco Valley. This is what is written on the website and more or less (but really more or less) it is what Katahrina Huber told me during my visit. In reality, I would have liked to have found out more about this fascinating story but we must wait until the family decides to research further (there is a book on Johann Huber but it is in German and therefore not understandable).
Josef Huber's great-grandson, Andreas Huber, has been managing the Pacherhof estate since 2000 with the help of his sister Katharina, who has been managing hospitality and public relations for a couple of years.



Andreas Huber

So, if you were expecting a farmstead still in working order after more than a thousand years of history, you would be wrong: the Huber family has gone overboard. They have dug out a new winery under the front courtyard, connecting it to the old one, a two-year job. An enormous winery, beautiful, highly efficient, equipped with the most avant-garde and costly devices, with a tasting room to match. And, next to it is a fairytale, luxury hotel.
The Hubers are very different to the other small producers. They also have more land, eight self-owned hectares, two rented and five as cooperative suppliers (and they are working towards converting their entire production to organic) and therefore, they also produce more bottles, 120,000 (it seems). The wines are technically well-made, but a little cold (and I don't mean the temperature, even if, at first, they were served too cold). There is a certain stylistic homogeneity to reassure those looking for it. I choose the Private Cuvée Andreas Huber (40 sylvaner, 34 riesling, 26 kerner) 2016, in which the riesling and kerner grapes are fermented in steel and the sylvaner in large barrels. After nine months' refining, the varieties are assembled and bottled. A round wine, fruity and pleasant. I am curious to see how it will develop.

Pacherhof
Via Pacher 1
39040 Novacella (BZ)
tel. 0472835717
wein@pacherhof.com
www.pacherhof.com
Many thanks to Hannes Niederkofler and Alex Filz for the photographs